This year, The Robettes tried building two robots in a season – one for competing and one for practicing! This season also entailed a quick strategy change – during the build season, our strategy focused on shooting fuel and placing gears. However, at a Week Zero competition, we realized that climbing was more advantageous than initially anticipated, so we built a climber that we attached & began to use during our first regional competition. One of our mentors, Walt La Roche, was recognized as Volunteer of the Year at the North Star Regional. At the same regional, we won the Engineering Inspiration Award, which qualified our team to attend the World Championships in Saint Louis! We had a great time at Champs, playing well in our matches and earning the Imagery Award for the Tesla & Carson divisions, our first Worlds-level award.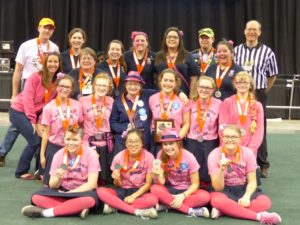 Ranked 44th at the conclusion of the qualifying rounds

Judges' Award
During the course of the competition, the judging panel may decide a team's unique efforts, performance, or dynamics merit recognition.
Ranked 20th at the conclusion of the qualifying rounds

Regional Engineering Inspiration Award
Celebrates outstanding success in advancing respect and appreciation for engineering within a team's school and community.

Volunteer of the Year Award (Walt LaRoche)
Presented to an individual, business, or organization that consistently excels in their efforts, with proven results in the areas of Impact, Leadership, Personal Commitment, Community, and Historical Contributions.
Ranked 48th at the conclusion of the qualifying rounds

Imagery Award in Honor of Jack Kamen
In honor of Jack Kamen, Dean's father, for his dedication to art and illustration and his devotion to FIRST. This award celebrates attractiveness in engineering and outstanding visual aesthetic integration of machine and team appearance.