2012-2013: Ultimate Ascent
This season was another fantastic one! We were selected for Beta Testing during the fall. At the Lake Superior Regional in Duluth, MN, our team was the first choice by the top ranked team, super alliance captain 2220, and won the Industrial Design Award. Katherine A., the electrical captain, was a Dean's List Finalist. At the Minnesota North Star Regional, we won the Creativity Award. Finally, our team began mentoring the Wild Girls, a local, all-girls FLL Team and started working with the Girls of Steel to form an alliance of all-female teams worldwide.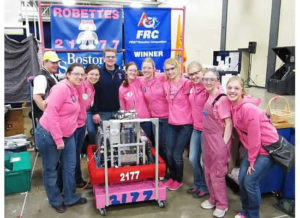 Ranked 4th at the conclusion of the qualifying rounds
First pick of the 1st alliance
Lost the Quarterfinals in 2 matches
FIRST Dean's List Finalist Award (Katherine A.)
Celebrates outstanding student leaders whose passion for and effectiveness at attaining FIRST ideals is exemplary.
Industrial Design Award Sponsored by General Motors
Celebrates form and function in an efficiently designed machine that effectively addresses the game challenge.
Ranked 50th at the conclusion of the qualifying rounds
Second pick for the 6th alliance
Won the Quarterfinals in 2 matches
Lost the Semifinals in 2 matches
Creativity Award Sponsored by Xerox
Celebrates creativity in design, use of component, or strategy of play.
Ranked 23rd at the conclusion of the qualifying rounds