This year, we supported the FIRST Ladies, an organization for all women in FIRST, by attending their first conference.  While hosting our all-girls skills camp, we helped inspire and encourage other girls in robotics. During the Minnesota North Star Regional, the Robettes teamed up with 3M and University of Minnesota chapters of the Society of Women Engineers (SWE) to host a new event called SWEet Eats. The luncheon event provided an opportunity for students to network with female engineers and discuss the importance of women in robotics, FIRST, and STEAM fields. And finally, our mentor Jon Stratis won the Woodie Flowers Finalist award!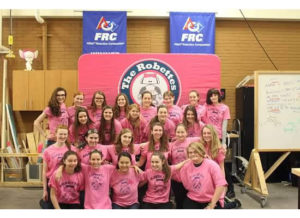 Ranked 25th at the conclusion of the qualifying rounds
Woodie Flowers Finalist Award (Jon Stratis)
Presented to an outstanding Mentor in the robotics competition who best leads, inspires, teaches, and empowers their team using excellent communication skills.
Ranked 35th at the conclusion of the qualifying rounds