2011-2012: Rebound Rumble
The Robettes had another great year! This year, we secured sponsorship from Best Buy for ourselves and five other teams in the Twin Cities. At competition, we won the Imagery Award and the Judges' Award at the Minnesota North Star Regional.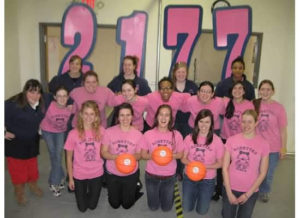 Ranked 52nd at the conclusion of the qualifying rounds
Ranked 20th at the conclusion of the qualifying rounds
Second pick for the 5th alliance
Won the Quarterfinals in 3 matches
Lost the Semifinals in 2 matches
Imagery Award in Honor of Jack Kamen
In honor of Jack Kamen, Dean's father, for his dedication to art and illustration and his devotion to FIRST. This award celebrates attractiveness in engineering and outstanding visual aesthetic integration of machine and team appearance.
Judges' Award
During the course of the competition, the judging panel may decide a team's unique efforts, performance, or dynamics merit recognition.